Here at University Congregational Church, United Church of Christ, we proclaim a gospel that is progressive, inclusive and inspired by the never-ending love of God. We are an Open and Affirming congregation which means we embrace and affirm the ministry of everyone no matter their race, ethnicity, gender identity, sexual orientation, disability/ability, age, or any other factor.
Meet Pastor John Lund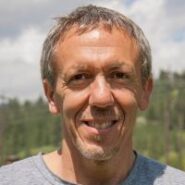 UCC Missoula is proud to welcome our new Senior Pastor, John Lund. He grew up with Finnish and Sicilian roots in Michigan, was baptized as a Roman Catholic, attended an Episcopalian church as a child and a Lutheran church as a youth. With standing in both ELCA (Evangelical Lutheran Church of America) and UCC (United Church of Christ), his personal and professional vision, mission, and values align closely with those of our own church. Pastor Lund served as pastor for Grace Lutheran Church in Dodgeville, WI, until 2000, then as pastor for Beautiful Savior Lutheran Church in Vancouver, WA, through 2005. From 2005 to joining us in 2023, Pastor John served as the ELCA campus pastor at Emmaus Campus Ministry at the University of Montana here in Missoula. Pastor John has served as a connecting point between the campus community, churches, and many community organizations, as well as teaching in the Honors College. Pastor John is married and has two sons. Karin is a licensed clinical social worker, Sam recently graduated from Seattle University, and Eric is a junior at MSU. Pastor John enjoys all things outdoors and is an experienced handyman. As a congregation, we are lucky to have found such an experienced and devoted leader.
Land Acknowledgement
We are proud to use this Land Acknowledgement as part of every worship service:
UCC Missoula acknowledges that we gather on the aboriginal territories of the Salish and Kalispell Peoples. We honor the path that they have always shown us in caring for this place for generations to come.
Recent Announcements